Product Specs
Brand: Snapple®
Name: Diet Half 'n Half Lemonade Iced Tea
Characteristics:
Product: Iced Tea
Caffeine: Regular
Roast / Type: Beverages
Blend:
Type: KCUP
Pack: 22 Count
UPC: 99555061130
SKU: 5000203062
Variety
Features

BLACK TEA
CAFFEINATED
ICED TEA
ORTHODOX UNION KOSHER
DESCRIPTION
Tasty tea and tangy lemonade blended together for a flavor combination that is sure to please.
How to Brew Over Ice
Step 1: Fill a 16-oz. cup (Do not use glass) to the top with ice and place a Brew Over Ice K-Cup® pod in your brewer.
Step 2: Press the 6-oz. or 8-oz. brew button for optimal flavor.
Step 3: Stir and enjoy!

We suggest you run a hot water brew cycle without a K-Cup® pod before and after brewing the Brew Over Ice K-Cup® pod.
SNAPPLE is a registered trademark of Snapple Beverage Corp., used under license. ©2015 Snapple Beverage Corp. www.snapple.com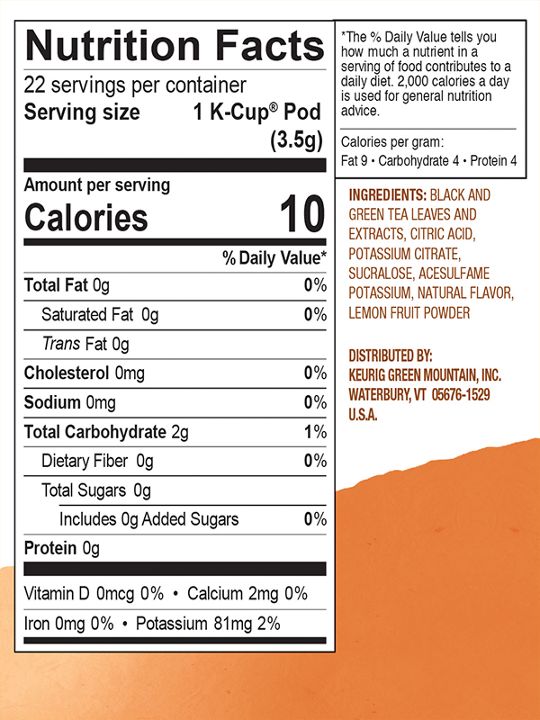 Disclaimers:
Actual packaging, UPC/SKU and units per box may vary.
Product information, data & images are from the respective manufacturer and/or its distributers.
Trademarks & Copyright info belong to their respective owners.
Snapple® Diet Half 'n Half Lemonade Iced Tea - K-Cup® - Regular - 22ct